Description
Komfortabel und langlebig
Die stoßdämpfende Zwischensohle sorgt für die lang anhaltende Dämpfung, die Sie benötigen, um Ihre Füße geschützt und stabil zu halten. Entwickelt, um die perfekte Balance aus Traktion, Schutz und Haltbarkeit zu bieten.
Rutschfeste TPR-Außensohle
Für den dringend benötigten Grip wurde die Gummilaufsohle hinzugefügt, um sowohl bergauf als auch bergab besser zu gehen, was diesen Stiefel zu einem perfekten Stiefel für den aktiven Menschen macht.
Halten Sie Ihre Füße warm und trocken
Die Austrocknungskonstruktion und das wasserabweisende Wachsversprechen bieten wasserdichten Schutz. Die Stiefel halten Ihre Füße bei jedem Wetter bequem.
Einzelheiten:
100 % wasserdicht mit atmungsaktivem Microsuede bieten außergewöhnlich wasserabweisende, hervorragende Dampfdurchlässigkeit halten Ihre Füße trocken in einer nassen Umgebung
Die TPR-Sohlendruckform mit entsprechender Tiefe bietet einen perfekt stabilen Halt. Bessere Flexibilität, langlebig, erdbebensicher, dämpfend und langlebig
Außenmaterial: Micro Wildleder
Verschluss: Schnürung
Gewicht: 1,98 Pfund/durchschnittliches Paar
Absatzhöhe: 3,5 Zentimeter
Anti-Ermüdungs-EVA & warme 3M-Fell-Einlegesohle gleichen das Gleichgewicht aus und entlasten den Druck. Weiches, feuchtigkeitsbeständiges Futter, antibakteriell, korrosionsbeständig, zusätzlicher Komfort
Modefarbe und -stil. Wirklich modern und eine schöne Passform für den Außenbereich. Leichte, harte Antikollisions-Zehenstiefel für kurze oder lange Touren, machen jeden Schritt zum Vergnügen.
Multifunktional einsetzbar, Training, lange Wanderungen oder ideal für den täglichen Spaziergang und halten Sie bei Schnee, Kälte, Regen und schlechtem Wetter frisch und warm
Gummi-Außensohle verbessert den Grip und bietet Strapazierfähigkeit.
Bitte beziehen Sie sich beim Kauf auf das Bild der Größentabelle, um die beste Passform zu gewährleisten. Wenn Sie eine weite Passform haben, wählen Sie bitte eine Nummer größer als üblich.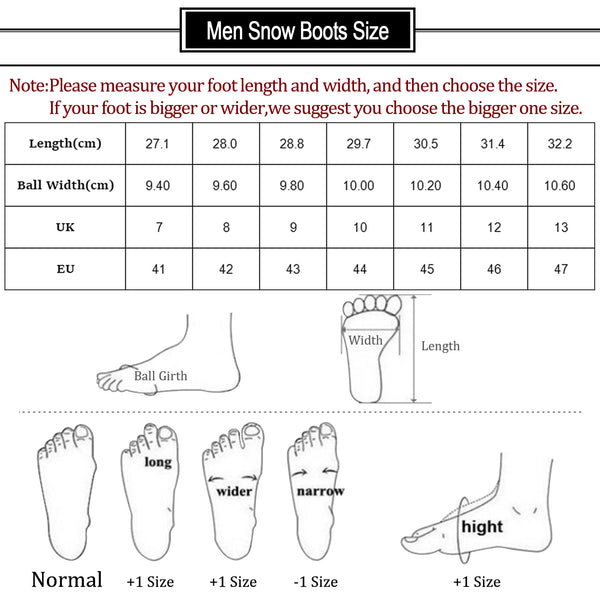 SCHUHPFLEGE
Stellen Sie die Stiefel an einen belüfteten Ort, um sie trocken und frisch zu halten.
Um eine bessere Wasserdichtigkeit zu gewährleisten, empfehlen wir die Verwendung eines Regenschutzsprays.
Payment & Security
Your payment information is processed securely. We do not store credit card details nor have access to your credit card information.